The Popular cinema of Gilles Grangier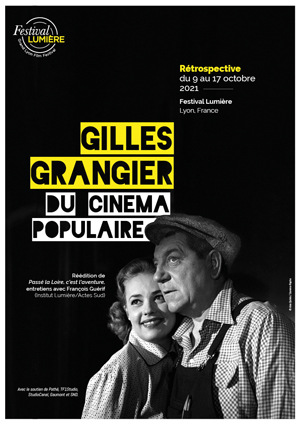 A director of some great familiar hits that delight the French whenever they are rebroadcast, Gilles Grangier was not a simple maker of films. A great observer of everyday life, of the customs of his time and modest trades, he handled his subjects with ease, moving fluidly from drama to comedy, staging the working-class settings of France in the 1950s with brio (often shooting on location, in the suburbs, in bistros, in the streets of Paris). Teaming up with Michel Audiard, René Wheeler, Albert Simonin or Albert Valentin, he built a rich and varied body of work, where we meet Noël Roquevert, Lino Ventura, Paul Frankeur, Jeanne Moreau, Danielle Darrieux, Paul Meurisse, Bernard Blier. And of course, Jean Gabin, who incarnated some of Grangier's most iconic roles, in the twelve films of their collaboration, including in Hi-Jack Highway/Gas-oil and The Counterfeiters of Paris. We revisit Grangier's work, with a selection of titles that show their importance, in restored prints with the support of Pathé, TF1Studio, StudioCanal, Gaumont and SND.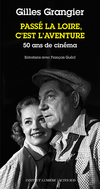 Reissue of Gilles Grangier - Passé la Loire, c'est l'aventure, interviews with François Guérif (Institut Lumière/Actes Sud).



Publication of Michel Audiard - Albert Simonin, screenplays presented and edited by Franck Lhomeau (Institut Lumière/Actes Sud).





Histoire de chanter (1947, 1h35)
After discovering his wife's affair with the famous tenor Gini Fabretti (Luis Mariano), Dr. Renault (Noël Roquevert) decides to seek revenge on him... A joyful, rhythmic comedy with a zany, far-fetched script, starring the delightful Carette.
Villa Lumière Tue 12 11am | Lumière Terreaux Fri 15 7:30pm | Pathé Bellecour Sat 16 7pm

Rhine Virgin (La Vierge du Rhin, 1953, 1h22)
On the quays of Düsseldorf, a quiet man boards a barge bound for Strasbourg. Very quickly, he arouses suspicion... A dark detective movie that marks the beginning of a long collaboration between Gilles Grangier and Jean Gabin.
Comœdia Tue 12 11:15am | Pathé Bellecour Wed 13 2pm | Lumière Institute Fri 15 7:15pm | UGC Confluence Sun 17 11:15am

Hi-Jack Highway/Gas-oil (Gas-oil, 1955, 1h33)
One stormy night, while leaving his girlfriend Alice (Jeanne Moreau), truck driver Jean Chape (Jean Gabin) runs over - or thinks he runs over - a man. The victim turns out to be a wanted gangster... A grand, realistic film, which marks the very first collaboration between Gilles Grangier and Michel Audiard.
Pathé Bellecour Mon 11 6:30pm | Lumière Terreaux Thu 14 6:30pm | Lumière Institute Fri 15 2:30pm | Cinéma St-Denis Sat 16 2:30pm | UGC Confluence Sun 17 11am

Blood to the Head (Le Sang à la tête, 1956, 1h23)
François, a former dockworker who has become a rich shipowner, goes in search of Marthe, his formerly neglected wife, who has gone off to find a lousy lover from her youth... A splendid adaptation of Simenon, starring Jean Gabin, Monique Mélinand, Renée Faure.
UGC Confluence Mon 11 3pm | Pathé Bellecour Tue 12 2:15pm | Comœdia Sun 17 2:30pm

The Schemer (Meurtre à Montmartre, 1957, 1h32)
Kelber, an art dealer, thinking he can con one of his clients, is himself tricked into buying a fake Gauguin. A settling of scores inspired by a true story about the small world of forgers… Annie Girardot is unanimously acclaimed for her talent and authenticity.
Lumière Institute Sat 9 10:45am | Pathé Bellecour Wed 13 9:15pm | UGC Confluence Fri 15 11:15am | Pathé Bellecour Sun 17 11:15am

The Night Affair (Le Désordre et la nuit, 1958, 1h33)
The owner of a fashionable nightclub is killed in the Bois de Boulogne. The investigation is given to Inspector Vallois of the vice squad... A detective story in nocturnal Paris of the 1950s, one of the most outstanding successes of the Gabin-Grangier-Audiard trio, starring Danielle Darrieux.
Pathé Bellecour Sun 10 2pm | Comœdia Mon 11 6:30pm | Lumière Terreaux Wed 13 6:45pm | Villa Lumière Sat 16 10:30am

Not Delivered (Échec au porteur, 1958, 1h27)
Bastien, a gang member, is shot. Before he dies, he reveals that a time bomb is hidden in a balloon picked up by a child... A lively genre film, with impeccable direction and acting, starring Serge Reggiani, Paul Meurisse and Jeanne Moreau.
Pathé Bellecour Sun 10 10:45am | Lumière Terreaux Wed 13 2:45pm | Villa Lumière Thu 14 3:30pm | UGC Confluence Fri 15 7:15pm

125 rue Montmartre (1959, 1h25)
A newspaper seller (Lino Ventura) finds himself involved in a dark affair after saving a man from drowning... A glimpse into the modest trades of working-class Paris, an exercise in which Gilles Grangier excels.
Cinéma Opéra Sun 10 2:15pm | UGC Confluence Mon 11 7:30pm | Mions Tue 12 8pm | Villa Lumière Wed 13 6:30pm | Pathé Bellecour Thu 14 5pm

The Counterfeiters of Paris (Le Cave se rebiffe, 1961, 1h38)
A gang of crooks sets up a fake money business... A humorous thriller starring Jean Gabin, Bernard Blier and Martine Carol. Bertrand Tavernier: "Formidably inventive dialogues, imaginary, poetic and comical language by Michel Audiard, for one of his great successes."
Villa Lumière Sun 10 4pm | Pathé Vaise Mon 11 8:30pm | UGC Confluence Tue 12 11am | Neuville-sur-Saône Wed 13 8pm | Comœdia Sat 16 7:30pm | Pathé Bellecour Sun 17 2pm

Maigret Sees Red (Maigret voit rouge, 1963, 1h27)
Paris, the Pigalle district. A man is shot down in the middle of the street and his body is picked up by a mysterious grey Citroën in front of Inspector Lognon... For the third time, Jean Gabin takes on the role of Inspector Maigret with great conviction.
UGC Confluence Sun 10 11:15am | Meyzieu Wed 13 8 pm | Bron Thu 14 2:30pm | Pathé Bellecour Sat 16 4:45 pm | Lumière Terreaux Sun 17 2:30pm

How to Keep the Red Lamp Burning by Gilles Grangier and Georges Lautner (Les Grands seigneurs / Les Bons vivants, 1965, 1h40)
Compelled by a law just passed, Mr Charles and Ms Blanche must close their brothel and bid farewell to the girls... Three burlesque sketches, deliciously written, reuniting the exceptional team of the French crime thriller: Lautner, Grangier, Audiard, Simonin, Blier.
Lumière Terreaux Sun 10 11am | UGC Confluence Wed 13 4:15pm | UGC Astoria Sat 16 8pm

Operation Double Cross/Train d'enfer (Train d'enfer, 1965, 1h32)
Antoine (Jean Marais), a secret agent, infiltrates a terrorist group based on the French Riviera... A pure action film with multiple stunts, a repentant and seductive gangster: a sort of French James Bond.
Villa Lumière Sat 9 10pm | UGC Confluence Tue 12 7:15pm | UGC Astoria Sun 17 2:30pm

A Loser (Un cave, 1972, 1h37)
Two men become friends in prison. They escape, and one of them, a cellar man, finds himself burdened with his cellmate's secrets... A film with a breathless rhythm, both amoral and funny. Starring Claude Brasseur and Marthe Keller.
Pathé Bellecour Tue 12 10:45am | Cinéma Opéra Thu 14 2:15pm | Lumière Bellecour Sun 17 2pm