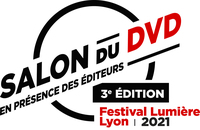 DVD

PUBLISHERS' FAIR
OF THE LUMIÈRE FESTIVAL
3rd EDITION


PUBLISHERS IN ATTENDANCE


Sunday, October 10, 2021
10:30am-7:30pm
MIFC Village – RUE DU PREMIER-FILM, LYON 8th

Designed for both the general public and professionals, the DVD Publishers' Fair highlights the editorial work of DVD/ Blu-ray/ Ultra HD 4k publishers.
It presents a unique opportunity for direct contact between video publishers and movie buffs at the Lumière festival!


| | |
| --- | --- |
| 10:30am-7:30pm | DVD / BLU-RAY / ULTRA HD 4K SALES |
Discover the collections, best sellers, collector's sets, and new releases presented by the video publishers!
16 publishers will be present: CARLOTTA, GAUMONT, PATHÉ, ESC ÉDITIONS, LE CHAT QUI FUME, MALAVIDA, POTEMKINE, TAMASA, LA TRAVERSE, UFO, EXTRALUCID FILMS, ARTUS FILMS, COIN DE MIRE CINÉMA, L'ATELIER D'IMAGES, SIDONIS and RE:VOIR
| | |
| --- | --- |
| 2:30pm-3:15pm | DISCUSSION WITH THE PUBLISHERS / CREATORS |
Behind the scenes of physical video publishing: meet the publishers / creators.
Speakers:
- Stéphane Bouyer, President, Le Chat qui Fume
- Gaël Teicher, Founder and director, La Traverse
- Carine Bach, General manager, and Patrice Verry, President, Extralucid Films
- Natacha Missoffe, Head of video publishing, Potemkine Films
Moderator: Pierre Olivier, Video and Catalog Director, TF1 Studio


> Recording of the conference:
| | |
| --- | --- |
| 4:30pm-5:30pm | TALK: THE TANAKA CASE |
Discover how it came to be that we can finally see, distribute and disseminate the unknown, unpublished work in France of Kinuyo Tanaka, female director of the Golden Age of Japanese cinema.
Speakers:
- Lili Hinstin, artistic director for festivals
- Vincent Paul-Boncour, co-founder and director of Carlotta Films, distributor and publisher of Tanaka's films in France
- Pascal-Alex Vincent, director, specialist in Japanese cinema, author of the book, Kinuyo Tanaka
- Maelle Arnaud, Head of programming of the Lumière festival

Moderator: Gérald Duchaussoy

> Recording of the conference:
OTHER EVENTS
New in 2021

| | |
| --- | --- |
| Throughout the day | PRESENTATION OF COLLECTIONS BY PARTICIPATING PUBLISHERS |

> Recording of the animation:



Free admission, open to all
Three sites on Rue du Premier-Film, Lyon 8th,
Metro line D – Stop Monplaisir Lumière
01. DVD Publishers' Fair / MIFC Village
02. Big DVD market / Lumière festival Village
03. Cinema bookstore and DVD shop