"Dear Jane, you have changed my life..."


---
PostED ON OCTOBER 16
---
From one Palme d'Or to another: During a vibrant gala ceremony, Julia Ducournau, winner of the top Cannes prize for Titane, presented the 13th Lumiere Award to the woman who paved the way, New Zealander Jane Campion.
The Amphitheatre 3000 of the Lyon Convention Centre was transformed into a stadium-like atmosphere as the crowd let out a collective roar comparable to a football match, a frenzy that spread like wildfire. The cheering was sustained while the photographers held their flash fest, exploding even further when Jane Campion, the tremendous Lumière Award laureate of the 13th edition, appeared on the giant screen and saluted the public during the traditional photocall that has opened the ceremony every year since 2009.
A few minutes before the arrival of the director of The Piano, an uninterrupted parade of personalities from the big screen had fired up the eager audience. The myriad of stars included Bette Gordon and Nan Goldin, invited to Lyon for Variety, Luc Dardenne, Lumière Award recipient in 2020 (who unfortunately came only with the cardboard cut-out of brother Jean-Pierre), the Giallo master Dario Argento, and Julia Ducournau, fresh off her Cannes win, flanked by her Titane actors Vincent Lindon and Agathe Rousselle.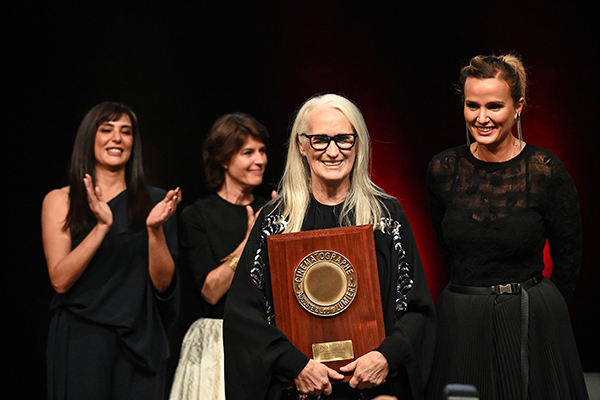 Jane Campion with Nadine Labaki, Irène Jacob and Julia Ducournau
© Olivier Chassignole

Irène Jacob, the newly-appointed President of the Lumière Institute, kicked off the evening by directly addressing Jane Campion and her cinema, which has managed to combine "the infinitely large and the infinitely small. What a feast, what a joy to celebrate your films tonight", she exclaimed. Luc Dardenne, succeeding the actress on stage, eloquently recalled the prestige of the award, born in a city that "breathes the cinema, down to its shops". After the rhythmic slam performance of Cyrious from Lyon and his drummer, famous photographer Nan Goldin took to the stage to comment on some of her photographs from the Variety film set, the subject of an exhibition as part of this 13th edition. The lights then went down in the house to watch a recently found never-screened short by the late Agnès Varda.
"In harmony, it foils all kinds of discords... the piano of Jane Campion"…Another slam artist, Abd Al Malik - accompanied by pianist Didier Martel – saluted the filmmaker with his cleverly crafted rhymes.
"Dear Jane, you have changed my life, all our lives," declared Italian director Alice Rohrwacher. My life has been very different thanks to you. As you said through one of the characters in your films: wealth means being able to satisfy the imagination. You have made us richer with your imagination. As a woman, you are the proof that one can be both fragile and formidable, delicate and wild. You are, for us, a Maestra."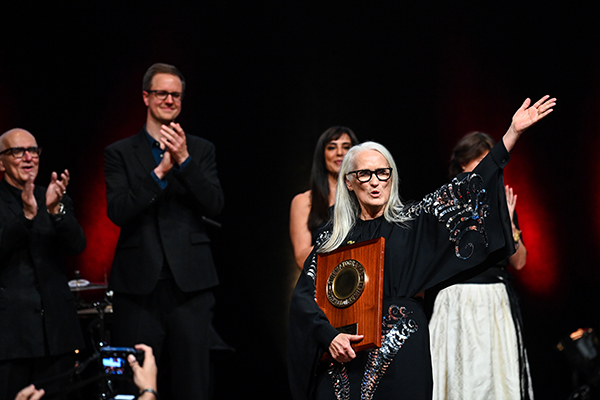 © Olivier Chassignole


Then Julia Ducournau spoke: "I have never met Jane Campion. However, for the past few months, she has accompanied me everywhere. Not a day goes by that I don't think of her. When I was on stage at the Cannes Film Festival in July, thinking about her helped me not be overwhelmed by my emotions. I tried to put myself in her shoes, in the solitude of being the first woman to win the Palme d'Or. I realised that long before I became a woman, she had already, through each of her films, saved me from my own solitude. She showed me that becoming a woman means knowing how to fight to be free and to stay free. She showed me my humanity at its most vulnerable and endearing, she showed me the pathos and pity of my existence, but also its beauty. It is with love and great emotion that I present the Lumiere Award to the great Jane Campion."
The pinnacle of the evening arrived when Jane took the microphone and declared, "I'm really moved by this tribute. In New Zealand, we don't do this stuff, we don't do emotion about ourselves. It's a big surprise to hear how much my work has touched all the female directors here. Cinema has given me life, and I am happy to be able to give it back. Coming here is like coming to Bethlehem! It's embarrassing to cry at your own ceremony. I am very touched by the welcome you gave me in Lyon and to see that you love cinema as much as I love cinema."
Benoit Pavan
"Dear Jane, you have changed my life..."