The secrets of The Piano


---
PostED ON OCTOBER 17
---
It is Jane Campion's most celebrated film, a magnificent story of female emancipation shot in breathtaking landscapes. Here are some of the secrets behind The Piano.
Ada
Before choosing Holly Hunter for the role of Ada, the young mute woman who arrives at the edge of the world with her piano, Jane Campion considered several actresses, including Sigourney Weaver, Jennifer Jason Leigh and even a certain French actress, who declared, ten years after the film, "I had met with Jane Campion at the time. I wasn't the only one; she didn't know exactly what she wanted. She was thinking of someone like Anjelica Huston, who has a very different physique from Holly Hunter or myself. She took pictures of me in a nineteenth-century way... I felt it was hard to track her down like Holly Hunter did, who, when she heard about the project, got a hold of the script and prepared to fight for the part. It's a typically American story, a little lesson for me, my Piano lesson." That actress was Isabelle Huppert.
Production
"When I saw Jane Campion's short films one afternoon in Sydney, I was struck by lightning. I sensed that there was an artist, a work in progress. I didn't have to wrack my brains to figure it out; it was like thirty years earlier, the obviousness of Preminger, Mizoguchi, Ida Lupino...". These words were spoken by Pierre Rissient (1936-2018), an enormous cinephile, a remarkable discoverer of talent and faithful friend of the Lumière festival. Not content with contributing to the Cannes selections of Jane Campion's first films, it was Rissient who convinced Francis Bouygues' French company, Ciby 2000, to produce the film.
Harvey
Harvey Keitel learned to speak Maori for the film and knew more than most of the extras. His acting partners have been full of praise for the actor's caring personality, in contrast to his tough-guy characters. He expresses a tender quality that he had never shown on film before. For the sake of realism, the (many) tattoos he wears were applied by a veritable Maori tattoo artist.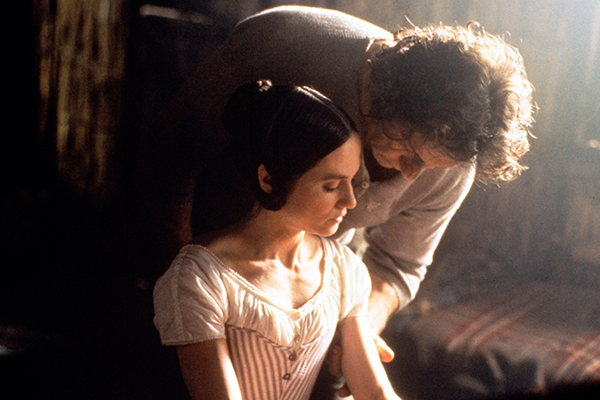 Holly Hunter et Harvey Keitel
© DR

Music
"Ada doesn't have an external repertoire to draw from," said Englishman Michael Nyman, who scored the film. "Her music comes from within. So I had to create the music as if she had created it. It's as if I had written the music of another composer who lived in Scotland and then New Zealand in the mid-1850s. Someone who obviously wasn't a professional composer or pianist, so she must have been modest." The album featuring Michael Nyman's music was a worldwide success.
Landscapes
The film was shot on Maori land, in the north of New Zealand's North Island in the Coromandel province, where Jane Campion had spent her childhood, riding horses with a great spirit of freedom. The wilderness is magnificent. The film also depicts how the Maori suffered from the greed of the British settlers for their land. I wanted to create a sense of dread in the viewer about the power of natural elements," explains Jane Campion. I think that's what romance is all about: this harmony with nature that is greater than yourself, your spirit, or even humanity."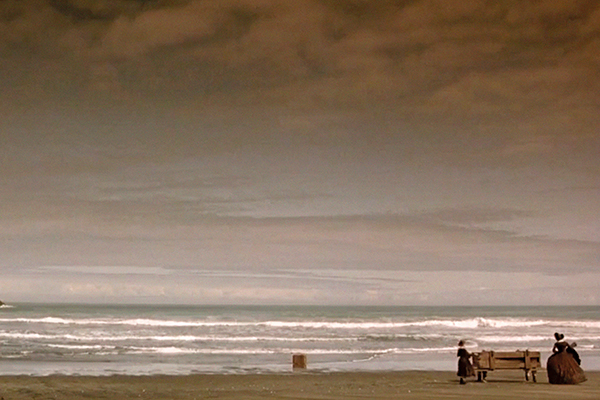 Elle joue du piano (debout) sur la plage
© DR

Credits
The film is dedicated to Jane Campion's mother, Edith, and closes with two words, "Kia ora", which means "thank you" in Maori. The entire filming process was approached in a 'bicultural' way, with great respect for the Maori people.
Awards
With The Piano, Jane Campion became the first woman to take home the Palme d'Or at the Cannes Film Festival (1993). It would be 18 years before the phenomenon would repeat itself, with Julia Ducournau's Titane in 2021. An often-overlooked fact: in 1993, Holly Hunter also won the award for Best Actress in Cannes. A few months later, The Piano also garnered three Oscars - Best Screenplay, Best Actress for Holly Hunter, and Best Supporting Actress for the (very) young Anna Paquin.

Charlotte Pavard