They Were Five


---
PostED ON OCTOBER 17

---
They Were Five is a great classic of French and worldwide cinema.

It is a legendary film, containing the famous line of the open-air café musette, "When you walk along the water's edge..." sung by an endearing Jean Gabin. There are two endings to the movie, a lighter happier outcome for the audience, and the original, dark version that follows the logic of a certain pre-war cinematographic fatalism and ends bleakly. When all is said and done, however, it is essential to recognise the grace that runs throughout this story of the solidarity of ordinary folk, which features a few unemployed workers who want to believe that together they can change their world.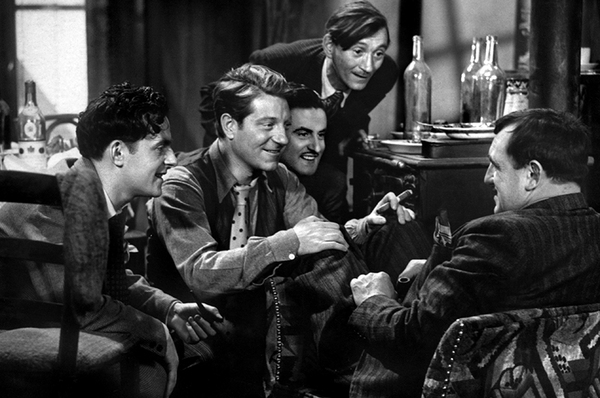 La Belle Équipe, 1936

The vigorous director Julien Duvivier, aided by Charles Spaak's solid writing, makes They Were Five an eyewitness of an era, that of the Popular Front, when France was experimenting with reduced working hours and the first paid holidays. They Were Five is a film that wants to believe, and which, even today, retains its relevance thanks to its forceful energy and its aspiration to build the characters' lives. This motion picture, which fortunately never slides into cheap idealism, conjures up notions of courage, along with uncertainty and fears, rivalries and powerful friendships between mates, the desire to live, to dance and sing together, enjoying the same rights, even if jealousy over a seductive minx will ultimately lead them down a dangerous descent.

Virginie Apiou
---
Screening :
They were five by Julien Duvivier (1936, 1h44)
Comoedia Sun17 10:45am
Pathé 4K restoration from the original nitrate negatives at the L'Immagine Ritrovata laboratory (Paris-Bologna) with the support of the CNC.