Dinosaurs decided his destiny


---
PostED ON OCTOBER 16
---
It was by devouring fantasy films, including the first Jurassic Park, that the Catalan Juan Antonio Bayona became a master of the genre. But will he ever end up surpassing it?
Almodóvar is the tree that hides the forest of Spanish cinema. Juan Antonio Bayona, 46 years old, only needed four films to rack up more moviegoers than Don Pedro may ever manage. But if we were talking about a boxing match, we would conclude that they are not in the same league.
Bayona has been successful since his debut in 2007 with The Orphanage, hard-boiled genre cinema, always with a poetic dimension. As a child, he loved painting - Guernica and Goya's black period - and even more so the cinema "for the source of escape it offered me". As an adult, he contributes, such as A Monster Calls (2017), his "most personal" film, which the director admits was inspired by Andalusian parents in the working-class neighbourhood of Trini, in Barcelona, "where unfortunately there were no cinemas. Me and my parents had to go further out to find a theatre, two or three times a year". The first movie to impact him was Superman, and he dreamt of making films ever since.
Juan Antonio's father was a drawing artist at a time when posters still had to be painted at the entrance of theatres. The cinema virus began to take effect there and then spread "by leafing through specialised magazines". In 1993, the discovery of Steven Spielberg's Jurassic Park acted as a catalyst for his vocation. "What struck me the most was the realisation that everything we imagined could become 'real' thanks to special effects." Twenty-five years later, the same Spielberg asked him to direct Jurassic World: Fallen Kingdom.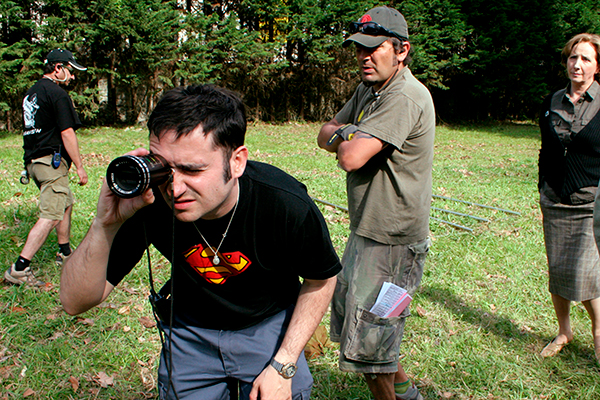 © DR


His father urged him to enter the ESCAC (Escuela Superior de Cine y Audiovisuales de Cataluña) where, in between classes, he directed video clips of the Spanish pop scene. His first contacts with the industry were the result of a kid's ruse. He was accredited at the Sitges Fantastic Film Festival as a journalist for a local radio station that of course didn't exist. "But that's how I was able to interview Paco Plaza (director of REC), Jaume Balagueró (REC 2) and the great Guillermo del Toro", who would end up producing The Orphanage.
The lockdown caught J.A. Bayona by surprise in New Zealand, where he was directing a series based on The Lord of the Rings for Amazon. The story is set in an earlier period than the one depicted in Peter Jackson's trilogy. But many are waiting with curiosity for the moment when Juan Antonio will dare to break away from pure genre cinema. All the great contemporary filmmakers from the world of fantasy (Coppola, Spielberg, Lynch, de Palma) have done it before him. To be continued!
Carlos Gomez
---
Jurassic All-nighter
Halle Tony Garnier Sat16 9pm

Jurassic Park by Steven Spielberg (1993, 2h02)
The Lost World: Jurassic Park by Steven Spielberg (1997, 2h09)
Jurassic World by Colin Trevorrow (2015, 2h08)
Jurassic World: Fallen Kingdom by Juan Antonio Bayona (2018, 2h08)