« My subjects choose me. »


---
PostED ON OCTOBER 16

---
The first woman to win double Palme d'Or awards for both a short and feature film, the first woman director to chair the Jury of the Cannes Film Festival; Jane Campion is an artist of firsts. Highlights of her vibrant conversation with the audience in Lyon…

A filmmaker or nothing

Making films was the only thing I wanted to do - in fact my friends were fed up with it, all I talked about was cinema, I thought about film, I dreamt about film, and it was a happy obsession.

Studies

I entered film school at 27, everyone wanted to do this, and it was a totally humbling experience. As a student, the only thing I was afraid of was not trying. I went from wanting to do film to doing it. When you really want to do something, you try everything, you don't care if you fail, you think, I'm learning.
I discovered very quickly the strong link between my energy, my psyche, what some people would call creativity, with something that seems to come from elsewhere, that is unconscious, a relationship with the divine. It is so mysterious that I have to obey it. Maybe that's why I'm not made to do anything I don't want to. When you feel this connection, and you take it seriously, you can feel it in the work you do. I felt it when I saw Julia Ducournau's movie. Titane is a raw, honest and singular film.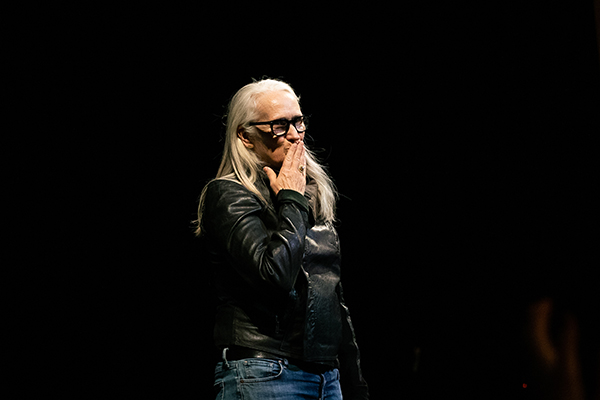 © Léa Rener

Creative process

My subjects choose me. I feel lucky because once a story starts to take shape in my head, I can see it through, a bit like my daughter who is so determined when she wants to get something. It has a lot to do with the extreme confidence you can have in the project; it creates a field of energy around it, even if it doesn't materialise straight away. It also works with the actors.
The Power of the Dog
I like to talk about my recent films; often you don't understand your specific attraction to your film until you start talking about it. For an adaptation (The Power of the Dog is based on Thomas Savage's novel), an intimacy is created with the author, and I take that very seriously, I really want to do the work justice; I let the book wrap its tentacles around me.

Influences
I love everything that is done well! Terrence Malik, the crazy energy of Kubrick, of Buñuel, Coppola who is really an inspiration in his choice of actors... Of course, I learned the language of cinema, like Bresson's, but you can't say that I subscribe to any sort of cinephile school. It is really possible to pursue a personal trajectory.

Interview by Charlotte Pavard